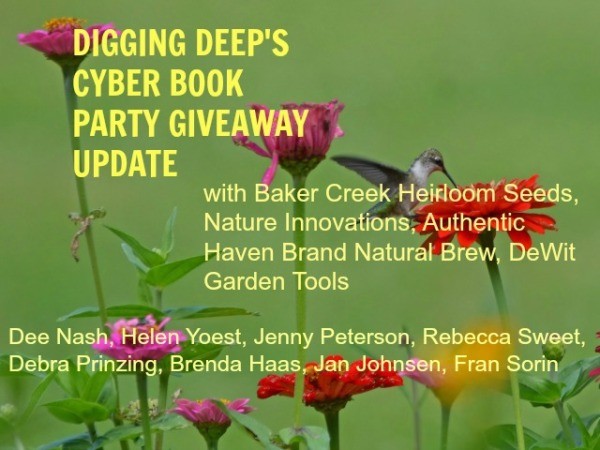 We're into our 2nd full day of the DIGGING DEEP CYBER BOOK PARTY and GIVEAWAY and we have FINALLY worked out all of the glitches.
Our 8th garden blogger, Jan Johnsen, who was unable to get to a computer where she was on a trip in the mountains somewhere in California, found the time and place to write and publish her post and has now joined our group. I'm so appreciative that she is part of this fun event. Not only does she add a unique voice to the gardening community BUT her involvement means another chance for you to win one of the wonderful prizes available.
To make sure that you are up-to-date on everything and have all of the information you need to make a beeline to every blogger listed in order to participate, here is the updated information.
SPECIAL LIMITED TIME OFFER ON DIGGING DEEP
In celebration of this party, I've priced the Kindle edition of Digging Deep at the ridiculously low price of .99 for the week of the giveaway. My suggestion is to get onto Amazon and order one for yourself so that you don't forget to do it before it jumps back to its regular price. Again, the kindle edition is at .99 only through December 8th. Then it jumps back up to its normal price.
There are 8 garden bloggers posting.
On every blogger's site, there will be giveaways.

Dee Nash- Red Dirt Ramblings
Helen Yoest- Gardening With Confidence
Jenny Peterson – J Peterson Garden Design
Rebecca Sweet- Harmony In The Garden
Debra Prinzing- Debra Prinzing blog
Brenda Haas- BG Garden
Jan Johnsen- Serenity In The Garden
Fran Sorin - Gardening Gone Wild and one grand prize here from DeWit Garden Tools

COMPANIES WHO HAVE DONATED PRIZES
Baker Creek Heirloom Seeds – 19 handpicked varieties of vegetables and flowers bundled together. You have 9 chances to win this prize on 9 sites.
The varieties include:
Red Express Cabbage produces early, solid, split-resistant oval heads on compact plants. Precoce d" Argenteuil Asparagus is a gourmet variety that is highly esteemed in Europe for its delicious stems that can be balanced white with rose-colored buds. Quadrato d' Asti Giallo Pepper is a giant yellow bell pepper with a sweet and rich flavor. Alaska Shasta Daisy Wildflower is an easy-to-grow perennial with large, white daisy flowers with bright yellow centers. Munstead Strain Lavender is a compact perennial that seldom exceeds a foot in height. Kellogg's Breakfast Tomato is a beautiful orange beefsteak variety that is flavorful and superbly sweet. Pink Accordion Tomato has large, pink fruit that is ruffled like an accordion and excellent for stuffing. Red Hat Mexican Hat Wild Flower is a colorful perennial with red flowers that look like Mexican hats. Lemon drop Hot Pepper is a seasoning pepper from Peru that ripens to a clean lemon yellow with slightly citrus-y heat. Rattlesnake Pole Bean is easy to grow and produces lots of green pods that have purple streaks and good flavor. Jumbo Pink Banana Squash produces large yields of large pink banana-shaped fruit that can weigh 10-40 pounds. Ping Tung Eggplant is a Taiwan variety that produces sweet and tender purple fruits that are superbly delicious. Tigger Melon is small in size, fragrant, and a beautiful vibrant yellow with brilliant red zigzag stripes. Minibel Tomato is an indeterminate variety that produces bite-sized fruits that are sweet and flavorsome. Royal Golden Watermelon has tasty pinkish-red flesh that is sweet, crisp and refreshing. Black Krim Tomato produces juicy, dark red-purple fruit with rich sweet flavor. Chioggia Beet is an Italian heirloom with light red skin and beautiful rings inside, like red and white candy stripes. Broad Leaf Sage is used in Europe and America to flavor many meats, stuffings, vinegars and more. Patisson Stripe Melange Squash is an ornamental mix that contains fruit in many colors with many being striped and warted.
Baker Creek Heirloom Seed Company carries over 1700 varieties of open pollinated herb, vegetable, and flower seeds. They carry one of the largest selection of seeds form the 19th century, including many Asian, European, and South American varieties. All Baker Creek seeds are non-treated, non-hybrid, non-patented, and non-patented.
Authentic Haven Brand Soil Conditioner – 3 pack variety – you have 8 chances to win this prize on 8 bloggers' sites.
Authentic Haven Brand Natural Brew premium soil conditioner teas are safe for all garden, indoor plants and soil types. Makes an excellent foliage spray.
You can extend your growing season by hydrating your seeds/bulbs before planting to enhance germination and stimulate root growth. Simply place your seeds or bulbs in a bowl or bucket of manure tea. Recommended hydrating time:
Small seeds – 1 to 4 hours
Medium seeds – 4 to 6 hours
Large seeds – 6 to 8 hours
Nature Innovations – Molded from live trees, these planters are made from a high density polyurethane, lightweight, UV resistant, and incredibly durable. All Nature Innovations planters are individually hand painted and are 100% made in the USA.
One giveaway includes:
1 small 4″ vertical oak planter
1 11″ long horizontal planter
1 medium 8″ vertical birch planter
1 medium 13″ horizontal oak planter.
You have 8 chances to win this prize on 8 bloggers' sites.
AND ONE SPECIAL PRIZE ONLY ON THIS SITE IS
from Derk deWit of
DeWit Garden Tools
.
They are outstanding tools hand made from Holland.
You have 1 chance to win this prize only on this site.
Anyone who owns a DeWit garden tool can vouch for its quality. Once you hold one in your hand, you'll be hard pressed to share it with others
The giveaway will continue through Monday, December 8th. All winners will be announced on December 9th. Only U.S. Residents are eligible to win.
In order to throw your hat into the ring, read each blogger's post and follow instruction on how to participate.
I AM OFFERING 1 GIVEAWAY HERE

DeWit Garden Tools- Gift packet consisting of 3 tools
If you want to participate on this site, write a comment on how you envision using these tools your garden next year.
My suggestion is that as soon as you read this post and leave a comment that you run over to the other bloggers' sites and participate in their contests.
A Reminder of Special Offer for Digging Deep, 10th Anniversary Edition
Just a few thoughts I want to share with you about DIGGING DEEP:
I chose to create an updated 10th Anniversary Edition. Originally when published in 2004, Digging Deep was groundbreaking. It was one of the first books – if not the first – that used gardening as a conduit for experiencing creativity as a rich and dynamic lifetime journey.
Digging Deep works with you from the inside/out on designing the garden and life of your dreams. My 7 Stages of Creative Awakening will take you through the steps of removing self-doubt and replacing it with strategies that will help you trust your instincts, let your imagination run wild, take risks, envision, reclaim your playfulness, and live the life you're meant to—one filled with joy, well-being, and creativity.
Overflowing with tips, exercises, and resources, this instructive and inspirational guide is even more vital in today's technology obsessed culture than when originally published. As we spend more time indoors and at the computer, we are becoming increasingly 'nature deprived'.
The results from a recent survey funded by Disney revealed that 65% of U.S. parents see it as a "very serious" problem that kids are not spending more time outdoors. Parents concerns about nature are only second to bullying, the quality of education, and obesity.
ENDORSEMENTS FOR DIGGING DEEP FROM TOP SPIRITUALITY, MIND-BODY MEDICINE FIELD, GARDENING, and CREATIVITY FIELD HAVE BEEN PHENOMENAL.
Here is some of what is being written about Digging Deep:
This book has heaven's kiss of inspiration upon it! Fran Sorin is a muse, revealing how the art of gardening powerfully activates the creative force within, invigorating and unifying us in body, mind, and spirit."   ~ Michael Bernard Beckwith, author of Life Visioning
"Digging Deep teaches the art of living creatively–from envisioning and creating the garden of your dreams to cultivating and embodying more imagination, passion, and play in your daily life. A profound and inspiring book."   ~ Andrew Weil, M.D., author of Spontaneous Happiness
"Captivating and enchanting! Fran Sorin understands that a garden should be a playground for our imaginations, and a place that is as lively, entertaining, and ever-changing as our own creative spark. A must-read for anyone who wishes to find themselves in the garden–and for everyone who didn't know they could."  ~ Amy Stewart, author of The Drunken Botanist
"Digging Deep strikes a deep chord about the sacred act of gardening and humankind's primal need to get our hands in the earth and connect with nature. For Fran Sorin, gardening is a playful ritual that transcends our normal consciousness–it's pure rapture and a profound tool for creating meaning and beauty. Digging Deep is a spiritual treasure." ~ Fr. Richard Rohr, O.F.M., author of Eager to Love
"Fran Sorin's seven-step process can help anyone cultivate a happier, more fulfilled and joyful life."  ~ Lama Surya Das, author of Buddha Standard Time
"Digging Deep is a gardening bible for the disbeliever–a gentle and inspiring guide to the spiritual journey awaiting you in your own backyard. Beautiful, helpful, and wise." ~Karen Maezen Miller, author of Paradise in Plain Sight
If you want to read more endorsements, click on the Kindle book page, then click on the image of the book on the left hand side to look inside. I'm also thrilled to say that there are several beautiful endorsements from the garden bloggers who are participating in this giveaway.
To sum up my special offer on the updated 10th Anniversary Edition of Digging Deep, I will be offering the e-book for .99 through the duration of the giveaway. After that, it returns to its normal price.
ON A FINAL NOTE: GOOD LUCK AND SHARE THIS CELEBRATION WITH EVERYONE YOU KNOW!!
Good luck in winning one of these fantastic prizes. I hope you have as much fun being at the party as I had putting it together. A huge thank you to all of the bloggers and participating companies for their generosity of spirit.
It may feel counter-intuitive to share the post with all of your friends on social media when you're trying to win a prize BUT the universe works differently. The more generous and sharing you are, the more you get in return!!
SO SHARE and SHARE MORE. It feels good AND who knows how the universe is going to reward you???
P.S. For those of you who have already shared on previous post, don't worry. IF you have signed up for the newsletter in upper right hand corner of home page, your name will automatically be eligible for the prizes.